The European Journal of Social Sciences Studies is a peer-reviewed  scholarly publication that provides a platform for the exchange of research and insights within the field of social sciences, with a particular focus on social issues. Here are some key points about the journal:
Research Papers: The journal publishes original research papers that encompass a wide array of topics within the field of social sciences. These papers typically present new findings and advancements in social science research, particularly focusing on societal issues.
Interdisciplinary Approach: The journal actively promotes an interdisciplinary perspective in social science research. It seeks to bring together knowledge and expertise from various social science disciplines to address complex social challenges.
Critical Reviews: In addition to research papers, the journal includes critical evaluations of current and significant social issues. These reviews provide in-depth analyses of specific subjects and offer valuable insights for researchers and scholars.
Regional and National Focus: The journal provides comprehensive assessments of social issues within specific European regions and countries. This feature proves particularly beneficial for understanding the variations in social challenges and responses across diverse geographical areas.
Diverse Range of Social Topics: The journal covers a wide spectrum of subjects within the field of social sciences. This encompasses the examination of societal trends, cultural dynamics, social policies, and their impact on individuals and communities.
Researchers, academics, and professionals engaged in social sciences and related fields will find this journal to be a valuable resource for staying updated on the latest research and developments in the realm of societal issues. It serves as a platform for knowledge exchange and collaboration among experts in social sciences, contributing to a better understanding of the complex social landscape. The European Journal of Social Sciences Studies is published online in English, Spanish, Portuguese, and Italian. Printed copies of the journal are available on request. The manuscripts can be submitted by using the submission form or at submit@oapub.org, specifying the preferred journal.
Vol 9, No 3 (2023)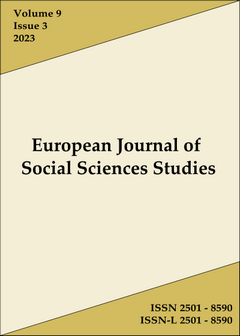 Table of Contents
Articles
| | | |
| --- | --- | --- |
| | Afidatul Aqma Mohamad Sabre, Eliyas S. Mohandas | |
| | | |
| --- | --- | --- |
| | Nguyễn Trung Hiểu, Nguyễn Anh Thường | |
| | | |
| --- | --- | --- |
| | Jean Bimenyimana, Cissy Karungi | |
| | | |
| --- | --- | --- |
| | Abdallah Soma, Kwaku Kissiedu | |