The European Journal of Public Health Studies operates as a peer-reviewed academic publication that provides a platform for the exchange of research findings and the dissemination of insights within the field of public health. Here are key points concerning this journal:
Research Papers: This journal serves as a venue for the publication of original research papers encompassing a wide array of topics within the domain of public health. These papers facilitate the presentation of novel discoveries, theories, and advancements in the realm of public health research.
Interdisciplinary Approach: The journal actively encourages an interdisciplinary perspective, fostering the integration of knowledge from various interconnected disciplines. This approach aims to address multifaceted challenges prevalent in the field of public health comprehensively.
Critical Reviews: In addition to research papers, the journal accommodates critical assessments of contemporary and pivotal issues within the domain of public health. These reviews offer comprehensive and profound evaluations of specific subjects, theories, and practices, delivering valuable insights for researchers and public health practitioners alike.
Regional and Global Emphasis: The journal provides insights into public health issues, placing particular emphasis on European contexts, while simultaneously addressing broader global concerns. This dual regional and global perspective is vital for comprehending the intricacies and dynamics of public health.
Diverse Range of Public Health Topics: The journal covers an extensive spectrum of subjects within the public health domain. This encompasses epidemiology, healthcare policies, disease prevention, health promotion, healthcare systems, and various interconnected aspects of public health.
Scholars, researchers, public health professionals, and individuals with a keen interest in the field of public health will find this journal to be an invaluable and essential resource. It operates as a platform for the dissemination of knowledge, the stimulation of scholarly discourse, and the cultivation of collaboration among experts in the field of public health. The European Journal of Public Health Studies is published online in English, Spanish, Portuguese, French, and Italian. Printed copies of the journal are available on request. The manuscripts can be submitted by using the submission form or at submit@oapub.org, specifying the preferred journal.
Vol 6, No 2 (2023)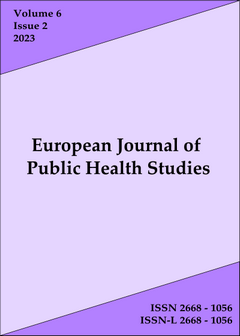 Table of Contents
Articles
| | | |
| --- | --- | --- |
| | Tan Keing Boon, Nur Azizah Binti Buchari, Heather Marie Boudville, Renuka Balasubramaniam, Hamshini Esuthasu, Kumaran Kanapathipillai | |
| | | |
| --- | --- | --- |
| | Gokhan Ozkan, Gorkem Yahyaoglu, Arif Aksoy | |
| | | |
| --- | --- | --- |
| | Manolis Nikolaos Mentis, Eleni Mavroeidi, Anastasia Malevskaia, Nikolaos Karalis, Georgia Konstantopoulou | |
| | | |
| --- | --- | --- |
| | Hilmi Atalıç, Ali Can | |
| | | |
| --- | --- | --- |
| | Monicah Wanjiru Mwangi, Sheilah Nangena Maina | |
| | | |
| --- | --- | --- |
| | Elysee Hitayezu, Nzeyimana Godefroid, Fred Kabuye, Therese Uwamariya, Francine Tuyisenge, Muvandimwe Jean de la Croix, Vedaste Ngirinshuti, Honore Niyigaba | |
| | | |
| --- | --- | --- |
| | Bahar Graefen, Aytan Abdullayeva, Araz Jabrayilov, Gulgaz Alakbarova, Khayala Tahmazi, Jamila Gurbanova, Nadeem Fazal | |
| | | |
| --- | --- | --- |
| | Georgia Konstantopoulou, Eleni Vangeli, Evangelia Polyzou, Eleni Mavroeidi | |