The European Journal of Economic and Financial Research is a peer-reviewed scholarly publication that offers a platform for the exchange of research and insights within the field of economic and financial studies. Here are some key points about the journal:
Research Papers: The journal publishes original research papers covering a wide range of topics within the fields of economics and finance. These papers present new findings, theories, and developments in economic and financial research.
Interdisciplinary Perspective: The journal encourages an interdisciplinary approach, aiming to bridge the gap between economics and finance, and bring together knowledge from various related disciplines to address complex financial and economic challenges.
Critical Reviews: In addition to research papers, the journal includes critical reviews of current and significant issues in economics and finance. These reviews offer in-depth analyses of specific subjects, theories, and policies, providing valuable insights for researchers and policymakers.
Regional and Global Focus: The journal provides insights into economic and financial matters with a focus on European contexts while also addressing broader global economic issues. This regional and global perspective is important for understanding economic trends and financial dynamics.
Broad Range of Topics: The journal covers a wide spectrum of subjects within the fields of economics and finance. This includes macroeconomics, microeconomics, financial markets, banking, investment, economic policy, and more.
Researchers, academics, economists, financiers, and professionals interested in economic and financial matters will find this journal to be a valuable resource for staying updated on the latest research and developments in these fields. It serves as a platform for sharing knowledge and facilitating collaboration among experts in economics and finance. The European Journal of Economic and Financial Research is published online in English, Spanish, Portuguese, French, and Italian. Printed copies of the journal are available on request. The manuscripts can be submitted by using the submission form or at submit@oapub.org, specifying the preferred journal.
Vol 7, No 4 (2023)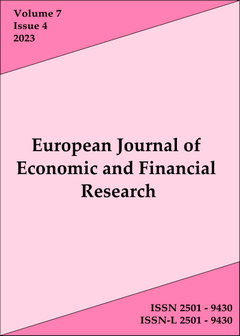 Table of Contents
Articles
| | | |
| --- | --- | --- |
| | Georgios Kyriazopoulos, Eleonora Blachava | |
| | | |
| --- | --- | --- |
| | Emmanuel G. Kapizionis, Stephen Day | |
| | | |
| --- | --- | --- |
| | Souhayla Aarasse, Brahim Idelhakkar | |
| | | |
| --- | --- | --- |
| | Nada El Moussaoui, Brahim Idelhakkar | |
| | | |
| --- | --- | --- |
| | Daoudi Jawad, Touhami Larbi | |
| | | |
| --- | --- | --- |
| | Jyothi Seepani, K. V. R. Murthy | |
| | | |
| --- | --- | --- |
| | Julia Adongo Otieno, Nelson Wawire | |
| | | |
| --- | --- | --- |
| | Jesson Rey F. Sabado, Precious Grace Angelika T. Garcia, Jonica B. Formentera, Glydelyn S. Arcebal | |
| | | |
| --- | --- | --- |
| | Aline Ingabire, Cush Ngonzo Luwesi, Mohamed Diarra Abdoulaye, Izerimana Modeste | |
| | | |
| --- | --- | --- |
| | Patrick Kinyua Mukoma, James N. Kung'u, David M. Gichuhi | |